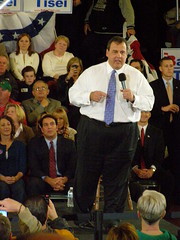 Image by Marissa Babin via Flickr
Does Governor Christie weigh 400 pounds?
By VICTOR E. SASSON
EDITOR
You'll have to guess.
When asked about Governor Christie's health -- including his weight, his diet and whether he is working out -- his press office said all of that is "personal information."
But that is a direct contradiction of what Christie himself told reporters after he was released from Somerset Medical Center on July 28: "I'm a public figure."
His staff said doctors early on ruled out cardiac problems and attributed his symptoms to asthma. The governor had complained of difficulty breathing and said he felt lightheaded.
On July 29, Juliet Fletcher of The Record's State House Bureau reported Christie spent his first day back at work after suffering "a very public health scare."
'Medical results'
Then, she reported Christie took 30 minutes of questions from reporters outside hospital doors on July 28:
"He [Christie] also said he had urged staff that day to release 'a complete download of all the medical results.'"
Christie continued: "One of the doctors said to me, 'Why don't you walk out of here and not tell them anything?'
"And I said, 'I gave up that life a few years ago. So I get it. I'm a public figure, and I understand the public interest in me and what I do, and making sure I'm OK is part of that. So no, I don't resent it.'"
If "making sure I'm OK" is part of the "public interest" and part of Christie being a "public figure," how can his weight, diet and related information be "personal" information?
Campaign fitness
Last week, The Record and other media again were abuzz about Christie's White House ambitions. But no one has addressed whether the obese governor is healthy enough for a nationwide campaign for the GOP presidential nomination.
In a recent late-night TV monologue, comedian David Letterman guessed Christie weighs 400 pounds.
I'm assuming Fletcher's quotes are correct, because she made a big boo-boo in the second paragraph of her July 29 story that none of the highly paid editors caught -- calling the asthma attack "his first health scare since he took office in late 2009."
Of course, Christie wasn't inaugurated until January 2010. Maybe, she's talking about the transition.
No comment
I called the governor's Press Office in Trenton on Friday and asked to speak to someone about the governor's health. I eventually got a "press assistant," who told me I couldn't call her a spokesman or attribute any quotes to her.
When I mentioned the governor said in July he had urged his staff to release "a complete download of all the medical results," she said she doubted that.
After finding the article on NorthJersey.com, calling her back and quoting from it, she said I would have to e-mail Michael Drewniak, the governor's press secretary. I did so on Friday, and haven't received an acknowledgement or answers to my questions.
Elephant in newsroom
The Record and other media have virtually ignored the issue of Christie's weight nor have they reported whether his administration is doing anything to combat obesity in New Jersey.
In fact, I recall Christie cut school-nutrition programs for low-income children during budget battles with Democrats in the Legislature.
At the Woodland Park daily, a number of obese or near-obese editors seem to have put up a wall in the past decade against any major project on obesity and healthy eating, and the food writers shrug off heart disease and harmful additives in meat, poultry and fish.
The Garden State's First Family is a Fat Family, from the photos I've seen of Christie; his wife, Mary Pat Christie, and one of their sons. All I know about Christie's diet is he favors beer and pizza.
Fighting hunger
The first lady has launched a campaign against hunger in New Jersey, but has ignored obesity.
She also complained a new rail station in Manhattan would have forced her to walk too far to make her subway connection -- one of the factors Christie cited in killing the Hudson River tunnels in October 2010.
I've seen an occasional article reporting the governor is working out with a trainer or is on a diet, but no details have been forthcoming.
In the days after he said the "medical results" of his eight-hour hospitalization were available, I never saw anything about them in The Record.
Readers' insight
Readers have taken notice of Christie's weight and his inability to control his appetite. Here's a comment from Mike Burns that appeared Saturday on NorthJersey.com:
Chris-P-Creme Christie and several previous governors of NJ stole money from the Police/Fire/Teachers Pension fund and used it elsewhere to reduce taxes. The result? The pension system was severely underfunded by these thefts. The members of the pension had always paid their share into the fund as it was deducted automatically by their employers from their pay. All these pension members took their jobs (at modest or low paying salaries) with the guarantee that there would be a cost of living (COLA) built into their pensions, and there was, for the last fifty years, until Christie and Democratic Senate President Sweeney voted to eliminate the cost of living from the retiree's pensions. Those retirees depend on that pension to buy food, pay their tax's, mortgages, rent, utilities, and now suddenly lost the COLA which means in about 10 years when all of those retirees are on their 70′s and older, those pensions will be worthless……and you would vote for a man who did this to the public servants of New Jersey? What would he do to the rest of the country, end your social security benefits, your private pensions?

P.S. What kind of leadership can a man have who is so obese and unable to control his own appetite?
Fat jokes about Christie are common on "The Daily Show with Jon Stewart," "Real Time with Bill Maher," and "Late Night with David Letterman."
Stewart compared Christie to Bobby Bacala of "The Sopranos." Maher wondered how the media could quote sources "close to Christie," when no one could actually get near the rotund governor.
This past Wednesday, Dave Letterman's Top 10 List discussed how "the country would be different if Chris Christie were president."
On Friday, The Christian Science Monitor published an online article on whether Christie's girth would be a campaign issue, if he ran for president:
Today's paper
The Christie coverage today is overkill -- even though the Page 1 story reports a 2012 White House bid is unlikely.

That didn't stop Editor Francis Scandale, who last week ran hot and cold on the Christie story.
Readers eyes are glazing over with nearly a full page of Christie blah, blah, blah on A-10, a Political Stile column on L-3, two columns that start on the front of Opinion and an editorial.
I can see a column by Brigid Callahan Harrison, a political science professor who is a persistent Christie critic and one of the most readable people writing for the Woodland Park daily (O-1).
But putting a Mike Kelly column below hers just shows what a buffoon the veteran journalist is. He compares Christie flirting with a presidential run to "a bad Chippendale striptease act." What a moron. Take a buyout, please.
Despite all that text by eight or nine writers, you won't find a word on whether Christie is healthy enough for a White House campaign.
I need a nap
The rest of the paper is another yawner.
The major element on Page 1 reports how the police team up with Facebook. Whoopee.
This comes several weeks after NorthJersey.com moved to restrict comments on its Web site to only readers who have Facebook accounts, in an apparent bid to weed out vicious personal attacks by readers who hid behind pseudonyms.
At the bottom of A-1 today is another tedious process story on the real Christie, whose so-called reform agenda has failed to strengthen local government ethics laws.
On the front of Local, Road Warrior John Cichowski is now writing about drivers in New York (L-1). Anybody who lives in New Jersey knows to steer clear of cars with New York plates, whether the drivers can see or not.
Stuck in the past
Someone should wake up Your Money's Worth Columnist Kevin DeMarrais, and lead him by the hand to one of the Whole Foods Markets in Bergen County.
Today, his column on changes in the supermarket industry completely ignores organic and naturally raised food, and Whole Foods, a supermarket chain that is more than 30 years old (B-1).
He also refers to "Fairway," without regard to Cafasso's Fairway Market in Fort Lee, which predates the chain from New York.
The Better Living front is dominated by Restaurant Reviewer Elisa Ung's column on challenges facing restaurants "when everyone wants a 7:30 table," and a promotional piece on a new book from the insufferable Alton Brown, a Food Network "star."
Is anyone at The Record writing about the challenges facing restaurant goers and food shoppers?
With access to more Italian-American restaurants per square miles than most others, New Jersey residents aren't likely to seek out an Italian restaurant on vacation, unless they go to Italy.
Tell that to Travel Editor Jill Schensul, who manages to visit Boston and ignore all the great seafood (T-1).